The Master of Healthcare Administration (MHA) program is committed to being the premier, dynamic, graduate program focused on learning, service, and inclusivity, where students from culturally diverse backgrounds fulfill their potential as leaders in healthcare management. Led by a mixture of faculty drawn from academic and professional backgrounds, students gain competencies in management and business functions that are applicable to a wide range of healthcare organizations. The MHA program provides a comprehensive graduate experience designed to meet the needs of working professionals by utilizing a distance learning model whereby the two-year program is taught primarily online with limited synchronous or in-person, face-to-face meetings.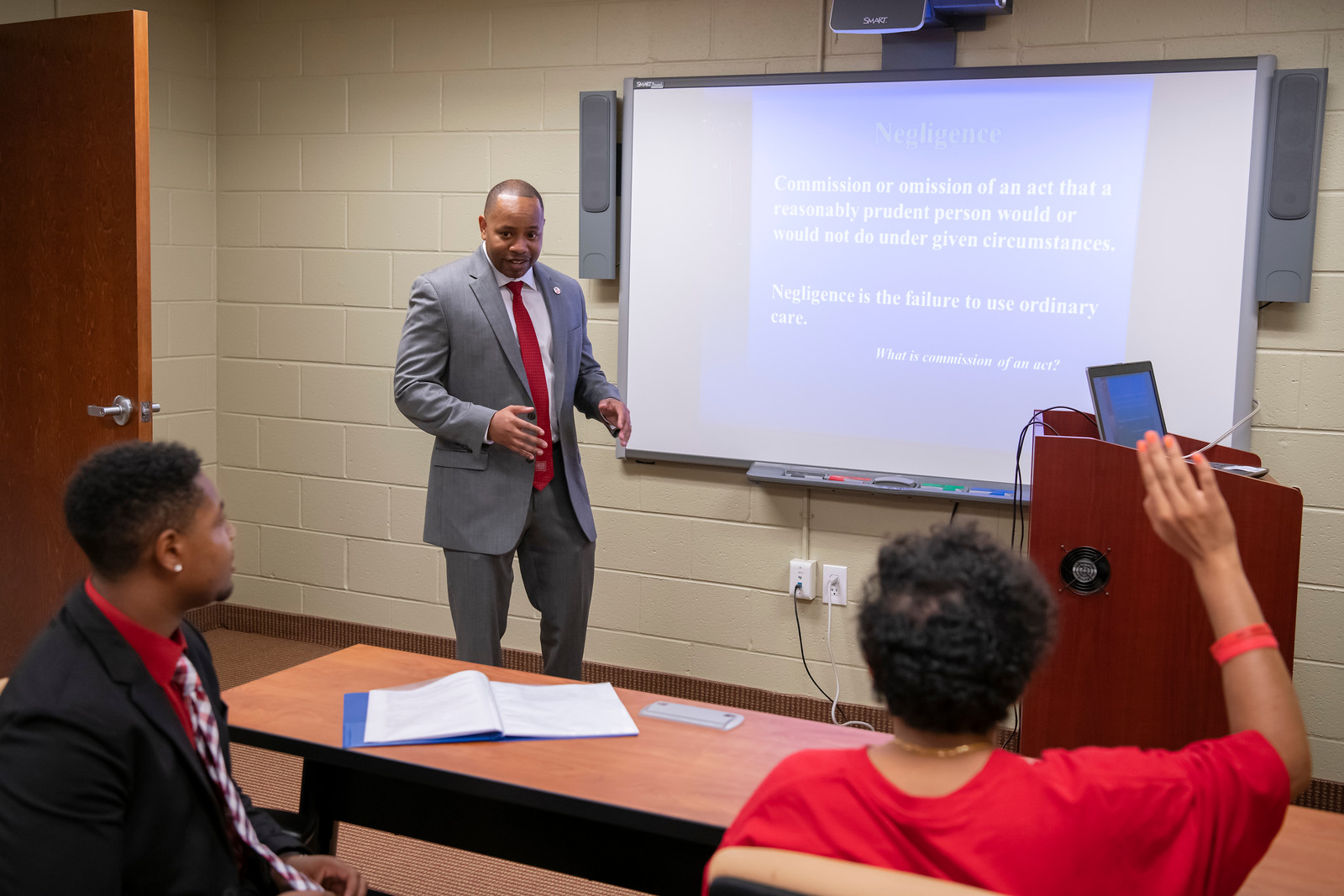 We value
Compassion for all
Leadership that makes a difference
Integrity in all situations
Excellence in all undertakings
Diversity focused on inclusion
Service as a creed for life
Learning Outcomes 
Students will be able to:
Formulate business communications, including presentations and business reports. (Communication & Relationship Management)
Apply leadership models, management techniques, and theories, demonstrating a capacity for leadership roles. (Leadership)
Demonstrate an understanding of professional roles, responsibilities, accountability, and ethical implications of alternative decisions and behaviors. (Professionalism)
Appreciate the interrelationships among access, quality, cost, and resource allocation in a diverse healthcare community. (Knowledge of the Healthcare Environment)
Apply business principles, including systems thinking, to the health care environment. (Business Skills & Knowledge) 
Program Goals
The program will include a student body of culturally-diverse working professionals, including members of populations that are underrepresented in the healthcare administration field.
The program will utilize faculty with academic and professional backgrounds that support the curriculum.
The program will be grounded in values that serve as guides to behavior and decision-making.
The Program curriculum will be based on an appropriate competency model.
Graduates will demonstrate competency in business functions core to healthcare management.
The program will produce research that supports the mission, vision and values of the program.
The program will encourage service to the university and the community.
Admission Requirements
Bachelor's degree from an accredited institution
Cumulative undergraduate GPA of 3.0
Professional Assessment*
One official copy of all transcripts
Three recommendation letters
Admissions essay *
Resume' – work experience is a critical component of the admission process
$50 application fee
Please submit required documents to:
Graduate Admissions Office
Anderson Center Suite 111
601 S Martin Luther King Jr Drive
Winston-Salem, NC 27110
Electronic official transcripts  should be sent to: graduate@wssu.edu
*Contact the Department of Healthcare Management if you have any questions.
Since preferred consideration is given to those who submit their application early, all application materials should be submitted as soon as possible.
International students must also provide a financial certification of sufficient funds to carry on graduate study, a sponsor's affidavit, and an evaluation of transcripts by an International Education Evaluation Services. Those who do not have English as their native language must provide TOEFL scores of 550 or better (written) or 213 (computer) Or IELTS scored of 6.5 or better.
Application Deadline
The priority deadline for reciept of all application materials is February 15th; space permitting the deadline may be extended to March 1st.  Since preferred consideration is given to those applicants who submit their applications early, all appication materials shoudl be submitted as soon as possible.  Fall semester entry only.
Transfer Credits
Subject to the approval of the Graduate Program Coordinator, up to 7 hours of graduate transfer credit may be applied toward the MHA. Graduate transfer credit will only be granted for courses completed with a grade of "B" or better and taken within the last five (5) years. 
Degree Requirements
The MHA program consists of 40 credit hours: a total of 13 courses. Students in the MHA program must maintain an overall GPA of 3.0 ("B" average); no more than two grades of "C" are allowed. In addition to the 12 MHA courses, for 3 credit hours, students must take a graduate elective, participate in independent study, or complete an internship.
Time Limits for Completion
The time limit for completion of the program is six years.
Program Structure
The MHA is a lock-step program that utilizes the cohort structure. Students following the prescribed plan of study can complete the MHA program in 2 years (four semesters).
Courses
MHA 5303   - Health Law, Ethics & Policy
MHA 5305   - Healthcare Finance & Decision Analysis I
MHA 5310   - Healthcare Information Systems Management
MHA 6312  - Healthcare Finance & Decision Analysis II
MHA 6315   - Patient Centeredness & Change
MHA 6318   - Grant Management and Writing
MHA 6330   -  Healthcare Professional Relations
MHA 6337   - Population Health Planning
MHA 6405    - Strategic Planning & Marketing
MHA 6340  - Advanced Healthcare Management Applications
MHA 6345  - Environmental Health Management
MHA 6310   - Human Resources and Conflict Resolution
MHA 6350   - Healthcare Leadership & Communications
Year 1 - Fall
Course Number
Course Name
Credit Hours
MHA 5303

 

 
Health Law, Ethics and Policy
3
MHA 5305

 

 
Healthcare Finance & Decision Analysis I
3
MHA 5310

 

 
Healthcare Information Systems Management
3
 
 
 
Year 2 - Spring
MHA 6312

 

 
HealthCare Finance & Decision Analysis II
3
MHA 6315

 

 
Patient Centeredness & Change
3
MHA 6318

 

 
Grant Management and Writing
3
 
 
 
Year 2 - Fall
MHA 6405

 

  
Strategic Planning & Marketing
4
MHA 6330

 

 
Healthcare Professional Relations
3
MHA 6337

 

 
Population Health Planning & Implementation
3
 
 
 
Year 2 - Spring
MHA 6340

 

 
Management Applications
3
MHA 6310

 

 
Human Resources and Conflict Resolution
3
MHA 6350

 

 
Healthcare Leadership & Communications
3
Departmental Links
Master of Healthcare Administration Webpage